---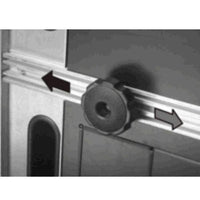 Grip Knob for all BLACK+GRAY Pit Boards.
Adjustable Grip Knob Kit: Model PB-GK
Adjustable grip knob provides rear grip for single handed display, carrying convenience and display stability.
2 3/8" diameter Grip Knob
For use with all BLACK+GRAY Pit Board Systems.
Can be placed in any of the cross-member extrusions
Can be used in multiples.
Simple left/right adjustment allows for a comfortable position for each user.